Ultimaker
Jump to navigation
Jump to search
How to use the Ultimaker
Download Cura from Ultimaker. Load your STL and try the Quikprint options first; draft print is fast and usually plenty good enough on quality. We recommend saving the resulting GCODE file to an SD card, and transferring to the Ultimaker machine that way for printing.
Please use only 3mm PLA in the Ultimaker.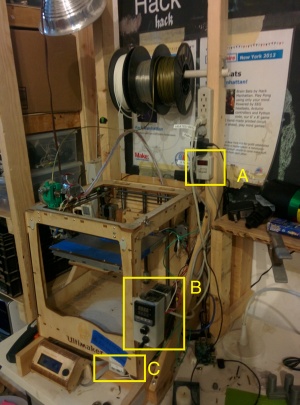 Step A: Turn power strip on to power the 3D printer and Octopi
Step B: Turn on heated bed
Step C: Toggle extruder fans accordingly
You can upload the gcode via the octopi at http://192.168.43.166:8000
Ultimaker detailed manual: Ultimaker Wiki/Instructions
Slic3r
If preferred, you can use Slic3r to generate GCODE for the Ultimaker:
File:Ultimaker stringless.ini.zip
Import the above .INI settings file into Slic3r, load your STL and put the resulting GCODE file on an SD card and print from that.
IP Address for octoprint is http://192.168.42.158/