Old Wish List
From Hack Manhattan Wiki
Projector
New
| Manufacturer | Model | Price | Resolution | Type |
| --- | --- | --- | --- | --- |
| ViewSonic | PJD5223 | $412.50 | 1024x768 | DLP |
| BenQ | MX660P | $490.99 | 1024x768 | DLP |
| Epson | EX5210 | $476.12 | 1024x768 | 3LCD |
| ViewSonic | PJD5523w | $469.99 | 1280x800 | DLP |
| Acer | H5360 | $499.99 | 1280x720 | DLP |
Used
Refurbished
Mill Stuff
(Since budget is limited, do we want to focus on completeness, on key capitol items, on things that a member cannot buy locally as needed? Also, do we prefer sets which store in their own box, or should we start moving to organized wall storage for things like cutters, fixtures, wrenches associated with each machine? - Chris)
(Note this does not include the corresponding drills. Unless we get the 115-piece drill set ($175 and up) we would have to also order the specific size drill for each tap.)
Vise [1] $59.99
Bench grinder $129.35
Rotary platform [2] $175.00
Tail stock for H5940 [3] $56.95
Jaw Chuck for Rotary Table [4] $97.95
Cutters: T-slot
Machinist's Blue Dye [5] $22.99
Tap and die set + vise + bench grinder + blue dye = $255.28
All of this stuff: $606.24
Pledges for mill tooling
Guan: $75 paid
Antonio: $100 paid
Crystal $50 paid
Stephen $100 ($100 moved to lathe purchase) paid
Robert $100 set reminder to pay in mid-sept
$53.25 left over from lathe
Lathe
Pledges for lathe acquisition
Crystal $100 paid
Guan $100 paid
Chris $100 paid
Antonio $100 paid
Robert $100 paid
Rendall via list "I'll pledge $100 to the lathe." paid
Peter $100 via list "I did place my pledge on the lathe... or at least, that was my intent...." paid
Stephen $100 (moved from mill list) paid
Ron $100 paid
Total $900 of $800 + van rental ($46.75)
Available Lathes
In terms of expenses to make this go:

Moving (zipcar or borrow, anyone have a furniture dolly?)
Spare belt ($12-35 depending on source)
Bench
$20 for some cheap cutter blanks to grind to shape
Bunch of safety glasses
$30-40 shop vac I already donated one --Guan 14:21, 23 August 2012 (UTC)
$50 6" bench grinder (may be able to get on loan from Norman)
+likely some bar stock or pvc pipe to practice on
---
(old post) Lathe - 9"x20" might be a good size, and could go in the "hallway" as long as it has an internal drive headstock, though if we allocate more space a heavy 10" or larger can take 5c collets but will be a challenge to get up the stairs. Probably anywhere from $500 (if lucky) to $1500, plus some tooling expenditures down the road.
Current plan: place in plexi room/machine shop, spend $500-$1000
Norman's Offer
bench grinder: will possibly lend
for sale: $150 metal table with vise, riser, bottom shelf, 46 1/4" wide x 25" deep. Perfect for mounting mill or lathe, can be picked up in about 2 weeks (photo is vise only):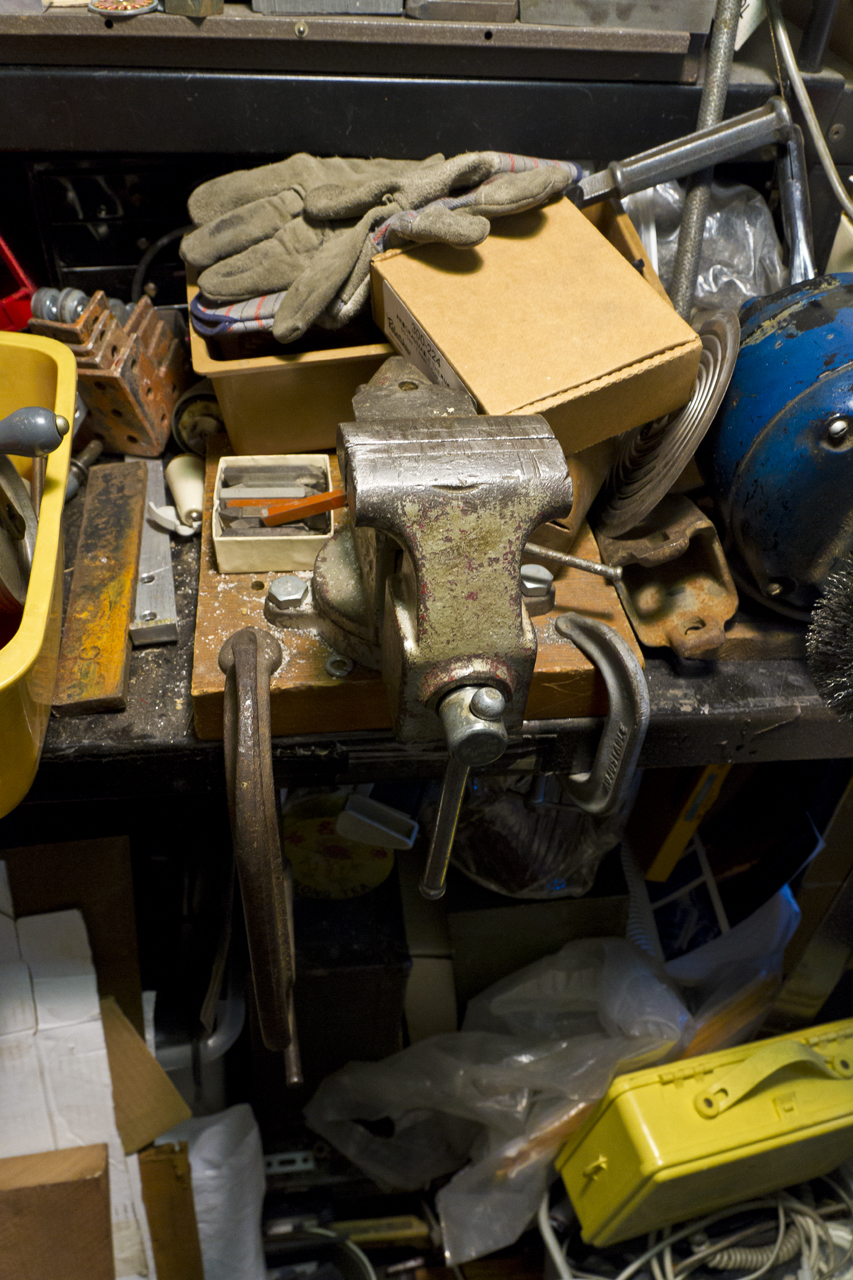 for sale: $150 wood top with heavy metal base and lower shelf, 59" wide x 34" deep. Will not be ready for pickup for a month or so.

Gear We Need
MUST GET
Electronic Test Equipment

Oscilloscopes + more probes
Multi-meters
[Bus Pirate] ($30) and/or similar simple SPI/I2C adapter/logic analyzer

Bench Power Supplies
Soldering & SMT

iron

Metcal or possible an Aoyue (maybe the 2900?) would be nice. Aoyue is inexpensive enough we could get two (or one to evaluate)

Binocular zoom microscope (Does anyone have an idea on how to source one of these, possibly ebay? try labx.com)
tweezers and dental picks

Power Tools
Drill press - smaller bench model or larger one? Depends on where we want to put it $90-200
drill bits index (there's a standard set of fractional, number and letter drills)
Bandsaw - do we try to get one with the extra reducer to get it almost into light metal cutting range?
Palm sander
Bench sander
Screw guns/drills
Screw driver set, both regular and miniature
Hex Key set, both regular and miniature
Torx Key set, both regular and miniature, also "security" torx
Nibbler
Chisels
Crescent wrench
Clamps
Hacksaw, perhaps jeweler's saw frame, also "Atlas track saw" (cheap, made for HO/N train track)
Workbench with vise
Length measurement (Tape measure, ruler, caliper)
Extension cables and power strips
Trash can + recycling bin
Sewing machines, pref. older metal ones
SHOULD GET
Printer/Paper/Ink
Hook-up wire (can often source from scrap network cable)
Breadboards
SMT resistor and capacitor assortment "book" [[6]] $40
HOPE AND PRAY TO GET
laser - "Lasersaur" open source project looks interesting.
Lasercutter -- at the 30 september meeting someone mentioned that 80W was better but they are all crazy expensive. Top of the list so far: http://www.cnc-laser-cutter.com/lasercut.html
Shopbot -- these look like they go for $10k - $15k, but we might be able to get a better deal. We should figure out how this compares to a laser cutter. It looks like it is significantly more versatile and the manufacturer is hackerspace friendly.
Please add to this list
ON LOAN FROM MEMBERS
CNC - as a separate machine or an add-on to manual lathe / mill?
-- -- Build a DIYLILCNC? Buy a Shopbot? Other types?
3D Printer (Plastic Mendel parts already donated - still needs hardware and electronics/motors)
Computers even older (especially if they have real parallel ports for I/O hacks) -
perhaps repurpose older, very cheap thin clients as hardware hosts? They're small and generally have the IO ports (http://www.parkytowers.me.uk/thin/hware/hardware.shtml)
Monitors - preferably LCD
Keyboards and mice
USB extensions and hubs
Networking (cables, router, etc)
Jigsaw
Wire cutters
Wire strippers
Pliers
Hardware Donations
(Are there items which we need to set a policy of avoiding so we don't get stuck with future disposal costs - ie CRT monitors? -Chris)
Name
Don
Several Antec 50W power supplies from Cisco routers. Simpler to work with than ATX and smaller- If desired
A couple of ARM development boards
Parts boxes
Misc small power supplies
6' Bench power strip
I'm going to go through my spare hardware and get a list to Joe and he can let me know what might be useful.
Peter Tell me if any of the following would be useful. They work -- I think. ;-)
Stereo receiver
Guitar amp
Ananda Tell me if any of this stuff is useful
Dell gx280 SFF PC, P4 2.8GHz, 512MB DDR2 upgradable to 2GB, 160GB SATA
Awesome - this is compact, has a hardware parallel+serial port, and reasonably capable - Chris
Now with several flavors of Linux. CD drive is broken, can be opened with wire but <1X and flaky.
ASUS WL-500g Premium v1 Router
Running [DD-WRT] this would be great. Can plug a flash stick into it for a mini server, too (12/6 upgraded to Tomato firmware to run HM wireless)
Julio I can donate some basic electronic components to play around with (not much but its a start)
Breadboard
LEDs (red and green)
Resistors (small selection)
Capacitors (smaller selection)
Few pots and switches (small selection)
Solid hook-up wire (three small rolls)
Small desoldering pump
Book - Making Things Talk (Tom Igoe, Make, 1st Edition)
Antonio
Various computer parts
Lots of rack server rails (can be used to make drawers etc.)
Justin
Sewing supplies (some thread, scissors, etc)
Computer/electronics odds and ends - cables, etc.
Chris
Jonathan
I have various boxes of electronic components.
Also have a Roomba whose power supply had a nasty encounter with 240V AC in Europe. After replacing the power supply, maybe we could do something interesting with it.
Kenny
All-Trade Electronic toolkit (Red plastic case.) Media:Tool_case.jpg
Rubbermaid Toolbox
2 Saws
Screwdriver bits in gray plastic dispenser
2 Tape Measures
Red "Swiss Army" knockoff knife
Wire Brush
2 Needle-nose pliers
Plastic orange box-cutter
Hammer
3 pairs of pliers (2 'slip-jaw', 1 standard)
2 pairs wire cutters
Electrical tape
4 Screwdrivers (3 Phillips, one flat)
2 Dental picks
Utica TT-1 "Click" Type Torque Limiting Screwdriver (Bits that fit this tool can be purchased here)
Stuff lent to space
Please label/mark your lent items
Crystal
Wooden workshop table
Plastic folding table
Graphtec cutting plotter
Digitizing pad
Sewing machines (multipurpose and overlock, consumer grade)
Hammer drill & bit set
Circular saw
Palm sander
Sam Brown
Ananda
Bus Pirate v3a
Some arduino shields (motor shield, danger shield)
Kenny Gutierrez

Jonathan
Possibly an oscilloscope
Lots of books